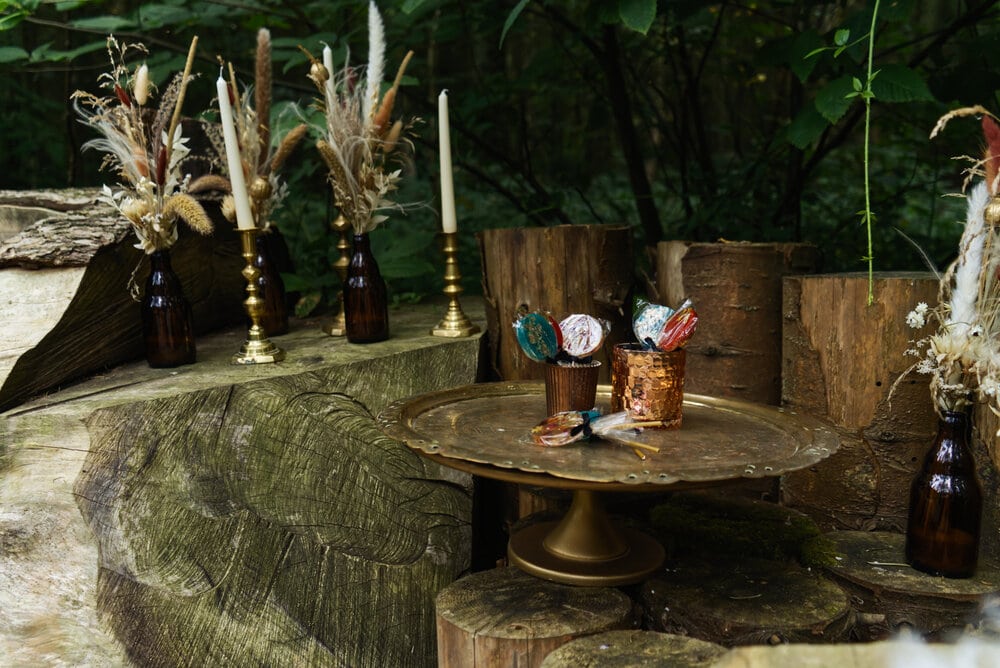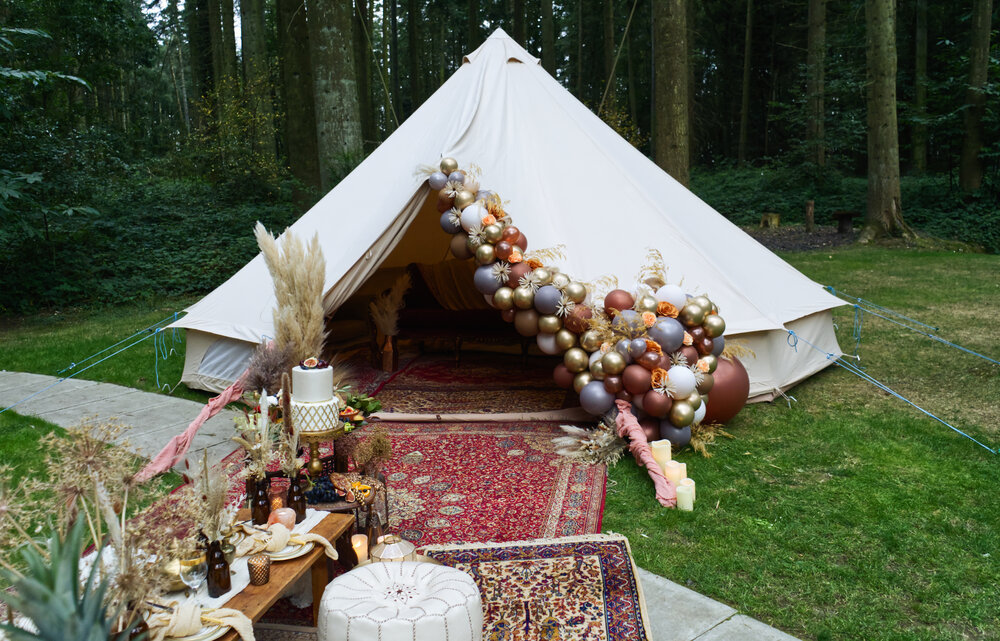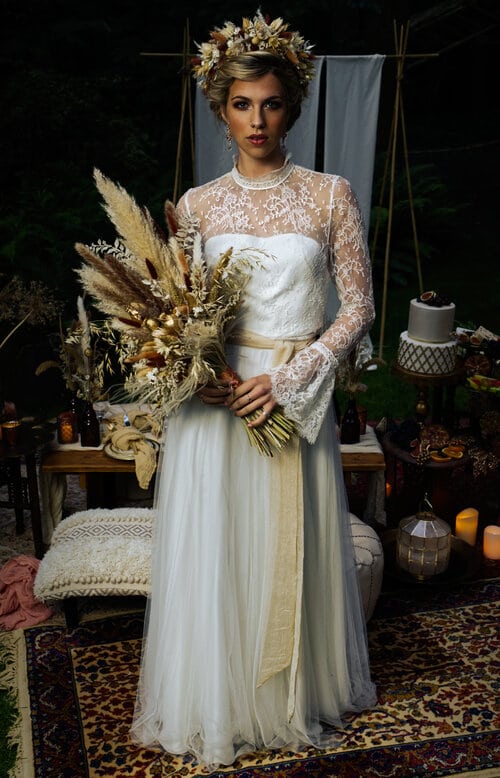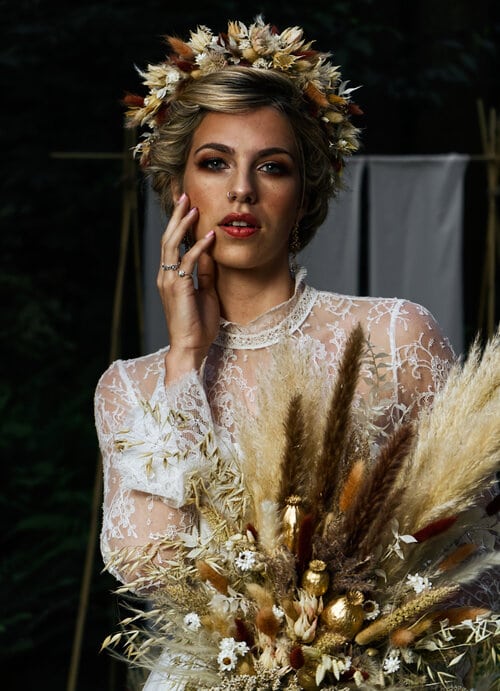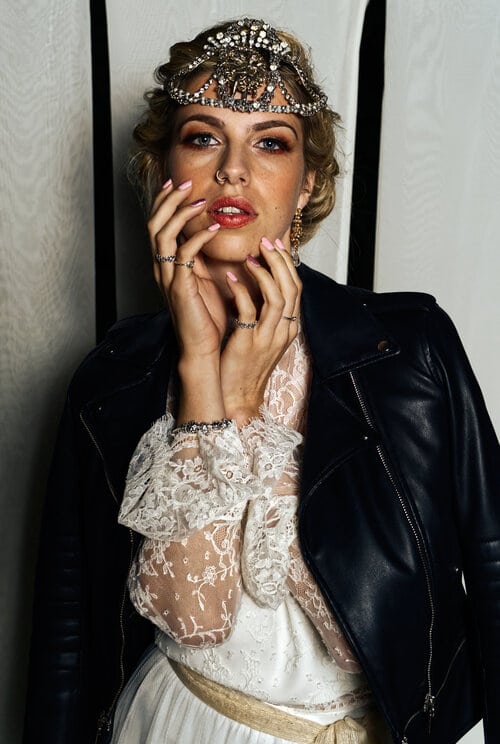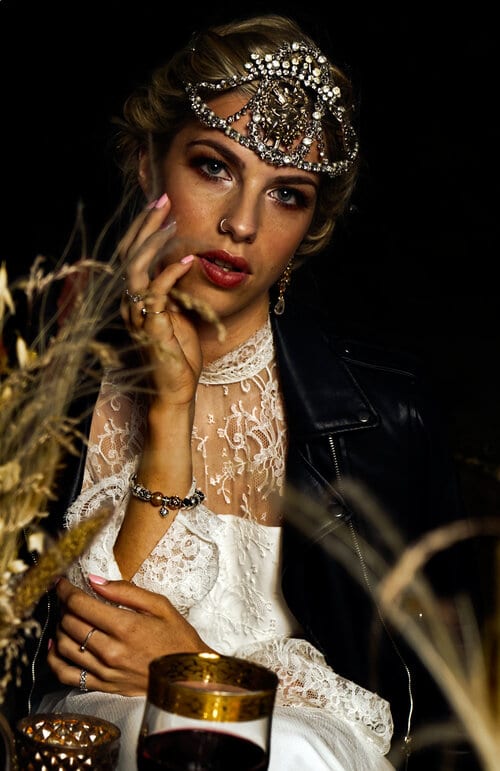 We adored creating this Moroccan night inspired photoshoot with a festival/glamping feel. These type of relaxed wedding vibes are so popular now and Longton Woods, being so magical, is the ideal location for creating this, it has the tallest trees that touch the sky and a quirky firepit seating area. We had a night-time vision for this shoot, capturing the essence of the dark of the night, beautiful deep colour palette along with gorgeous dried flowers and pampas with Moroccan styled props and the warmth of a roaring firepit to capture the atmosphere. So many shoots are in the light of the day, we wanted to show how cool this look was with a night vibe, as in reality that is when the party really starts!
When planning the shoot I had all the suppliers in mind that I had previously worked with, I like to work with trusted suppliers that completely understand the vision and will run with it, especially as it was all arranged at the last minute.
Natalie from The Great Little Glamping Company, supplied our large bell tent, which was the main feature of our photoshoot, it was furnished by The Little Wedding Warehouse with a beautiful red vintage sofa, decorated with fluffy pampas grass, side tables and lanterns, the entrance was paved in vintage rugs and even more pampas, they also supplied an array of other Moroccan inspired props that looked fabulous. I created a balloon garland with beautiful chrome golds, pastel blush, copper, mocha and grey, I added natural looking flowers, pampas and burnt orange roses. It matched perfectly giving the entrance a real luxe feel.
Gwenda from Bohotanical is such an amazing florist, she has a beautiful boho style which is outstanding, she also came along with some lovely soft furnishing props for the table and firepit seating area that added to the look we were trying to achieve. She used a mix of dried flowers which were wild and free looking, they looked so pretty in her brass vases. Gwenda made a beautiful dried flower crown for our bride which when styled with a handmade bespoke high-necked wedding dress from Lisa at Lisa Lyons Bridal it looked incredible. Gilly from Gilly Hair and Makeup did a fantastic job of styling our brides hair and makeup, it was perfect for a night time vibe.
For the wedding buffet, we wanted to tap into the grazing table trend. Shot against a stunning bell tent, a luxe Moroccan style dining table on different levels featured a lavish Moroccan grazing trays by caterer, Graze with Me. The stunning table display was completed with stylish white and gold vintage china and glassware from A Touch of Vintage. The exquisite stationery suite was a bespoke design created by Rachel at Made by Rae Designs. She paired contrasting watercolour washes of peach, orange and blue with a subtle Moroccan pattern, using sustainable uncoated textured papers.
Cake designer Oh So Delicious created a breathtaking Morrocan tiered wedding cake. Cookie Town added to our Morrocan look by added some stunning tile effect cookies in burnt orange and blue with gold detail and then we had the loveliest lollipops from Willow and Boo with blue, deep red and gold leaf.
It all came together beautifully, and we are very happy with the wonderful photographs from Luke at Luke Batchelor Productions, he really captured the essence and the warmth of the photoshoot.
Websites:
Vision, Production, Styling & Balloons theglitzyballooncompany.co.uk
Vision & Bell Tent thegreatlittleglampingcompany.co.uk
Photographer www.lukebatchelorproductions.com
Florals and Styling www.bohotanical.co.uk
Venue www.longtonwood.co.uk
Dress https://www.lisalyons.co.uk/ Stationery @madebyraedesigns_uk
Grazing @graze_with_me
Crockery & Glassware www.atouchofvintageuk.com
Lollipops https://willowandboo.co.uk
Cake www.ohsodelicious.co.uk
Props www.thelittleweddingwarehouse.com
Hair & Makeup http://gillychurch.com
Cookies @cookietownuk
Model https://lauraharwood312.wixsite.com
Facebook:
Vision, Production, Styling & Balloons https://www.facebook.com/theglitzyballooncompany/
Vision & Bell Tent https://www.facebook.com/The-GREAT-Little-Glamping-Company-982885171884417/?epa=SEARCH_BOX Photographer https://www.facebook.com/lukebatchelorproductionsltd/
Florals and Styling https://www.facebook.com/bohotanical/
Venue https://www.facebook.com/longtonwood/
Dress https://www.facebook.com/LisaLyonsBridal/ Stationery https://www.facebook.com/madebyraedesigns/
Grazing https://www.facebook.com/grazewithme1/
Crockery & Glassware https://www.facebook.com/atouchofvintageuk/
Lollipops https://www.facebook.com/willowandboo/?epa=SEARCH_BOX
Cake https://www.facebook.com/OhSoDeliciousCakes/
Props https://www.facebook.com/thelittleweddingwarehouse/
Hair & Makeup https://www.facebook.com/gillyhairandmakeup/
Cookies https://www.facebook.com/cookietown/
Model https://www.facebook.com/lauraxharwood/
Instagram:
Vision, Production, Styling & Balloons @theglitzyballooncompany Vision & Bell Tent @thegreatlittleglampingco Photographer @lukebatchelorproductions Florals & Styling @bohotanical Stationery @madebyraedesigns_uk Grazing @graze_with_me Crockery and glassware @atouchofvintageuk Lollipops @willowandboo Cake @oh_so_delicious_cakes Props @thelittleweddingwarehouse Hair and makeup @gillyhairandmakeup Cookies @cookietownuk